BELTS, CHAINS AND COUPLINGS
From micro to mammoth and traditional to cutting edge technology, ERIKS can design, supply and customise all open drives.
If you need an adapted chain or belt for conveying, our drives facility can build this for you in no time at all.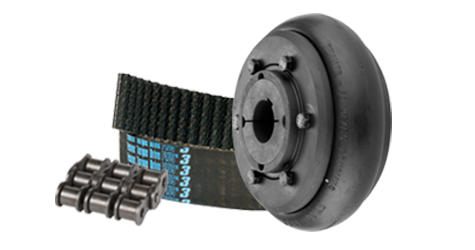 Product Know+How
We offer a wide range of belts drives, chain drives and coupling product solutions to meet your requirements, please feel free to raise an enquiry on the ERIKS Ireland team using the links below and we will get back to you as soon as possible.
All NEW Fenner Friction Belts
The Fenner friction belt range is now better than ever!
Know-How Hub
Keep up to date with all the latest news and updates
Effective Cleaning in Less Time with Rexnord's KleanTop Conveyor Chain
Conveyors are a critical role in many processing applications, however, the food and beverage sector also demands hygienic and sanitisation.  The Rexnord KleanTop line is one example of a belting series designed specifically for the job in question.
Making a Klean Sweep
While plastic belts are easy to clean, they are also easy to scratch and crack leaving spaces for germs to grow. Screw heads are another area for concern, where water can build-up and providing a breeding ground for bacteria.
With belting solutions such as the KleanTop 390, 2010 and 1200 Series, Rexnord overcomes the issues by using food-safe materials and ultra-hygienic designs. While Rexnord's 590 Series has an open hinge design making it easier to access for cleaning and draining water more effectively.
Keep your Cool
If your application requires cooling, Rexnord's 1090 Series has a scalloped bottom to the belt allowing it to run on a roller rather than a sprocket, ensuring it moves consistently without deadspots, it also features the open hinge design. In addition, both the 1090 and 1010 Series feature a reinforced belt edge, allowing more effective cleaning, in less time and with fewer chemicals.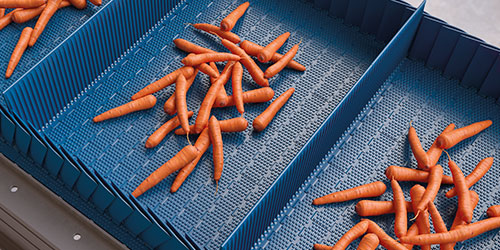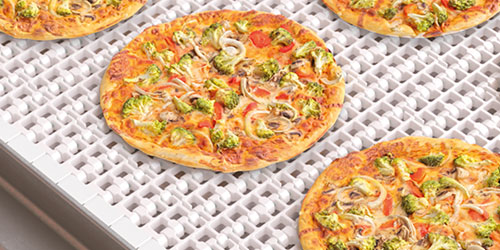 ERIKS in Action
Saving you time and money, each and every day
Contact
Get in Touch
For all general enquiries use the Enquire Online form - we'll connect you with the best member of our team for your query.  Alternatively, look up your local service centre...
Got a Technical Question?
We are proud to boast a strong team of technical specialists in each of our product and service areas. If you have a technical question a member of our team would be happy to help. 
Share Your Thoughts
At ERIKS we strive to deliver the best quality service and products. As part of this goal we encourage customers to submit feedback on their experiences so we can resolve any issues and concerns.