MAINTENANCE CONSUMABLES
Not only do we provide you with the kind of everyday consumables that every workshop requires, we also support the more technical products including structural engineering chemicals (adhesives, fillers and sealants) along with maintenance lubricants and friction management products to ensure you operate as smoothly as possible.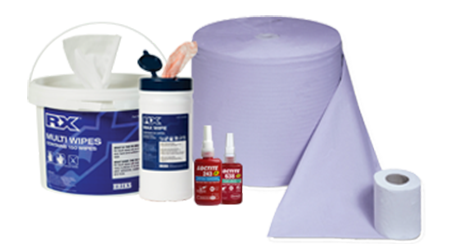 The Right Solution For Life
Improve Pump Reliability and Efficiency with Loctite
There are many reasons for pump failure, but some of the most common include:
Misalignment - loosening of pump base mounting bolts results in vibration that can cause bearing failure.
Leaks - Gaps and surface irregularities in threaded pump assemblies and flanges can lead to leaks that diminish pump performance
Wear - Damagae to surface and common parts due to abrasion, erosion or chemical attack
Luickly the introduction of an effective maintenance programme - with the aid of a range of Loctite solutions - can help you improve pump reliability, extend life and reduce your overall total cost of ownership.
To find out more, and take your first steps on the journey to improved efficiency, take a look at our new brochure.
Product Know+How
We offer a wide range of maintenance consumables to meet your requirements, please feel free to raise an enquiry on the ERIKS Ireland team using the links below and we will get back to you as soon as possible.
Know+How Hub
Keep up to date with the latest news and updates 
ERIKS in Action
Saving you time and money, each and every day
Contact
Get in Touch
For all general enquiries use the Enquire Online form - we'll connect you with the best member of our team for your query.  Alternatively, look up your local service centre...
Got a Technical Question?
We are proud to boast a strong team of technical specialists in each of our product and service areas. If you have a technical question a member of our team would be happy to help. 
Share Your Thoughts
At ERIKS we strive to deliver the best quality service and products. As part of this goal we encourage customers to submit feedback on their experiences so we can resolve any issues and concerns.