INDUSTRIAL ELECTRICAL
When you have a specialist requirement – whether it's for a product, advice, information or additional resources – you know who to call.
Through our Industrial Electrical Technology Centre we offer the quality and value you need for electrical supplies with measurable benefits to your operation.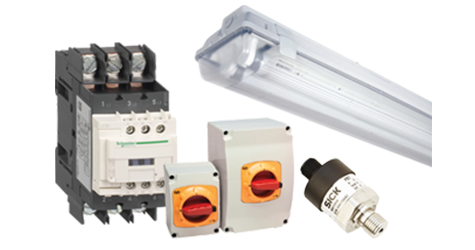 The Right Solution For Life
Signalling a Change in the Most Demanding Environments
Are you confident in your signalling solutions? The X10 from TLA will meet what your industry demands...
The X10 industrial sounder and sounder beacon range are tough and durable signalling solutions designed to meet the challenges within the harshest of environments.
IP rated to IP66 and IP69K 
Replaceable modular beacon 
10 year warranty
Salt water resistant seals and fasteners
Sunlight resilient UV fade resistant housing
High and low temperature durable -40°C +70°C
For more information on this range, please download the flyer using the button below:
Product Know+How
We offer a wide range of electrical products to meet your requirements, please feel free to raise an enquiry on the ERIKS Ireland team using the links below and we will get back to you as soon as possible.
ERIKS INDUSTRIAL ELECTRICAL CATALOGUE
ERIKS Electrical Services deliver the quality and value you need to meet all your electrical requirements with measurable benefits to your operational and logistics.
Our dedicated electrical centre stocks over 50,000 products and solutions ready for immediate despatch to your works, all backed up by our team of electrical technical specialists who are on hand with years of industry experience to provide you the solution you need. 
Our range of electrical products include:
Control and automation

Sensing and detection

Industrial control products and accessories

Power distribution and circuit protection

Wiring accessories

Consumables

Cables and cable management

Electrical test equipment

Light fittings, lamps and tubes
Know+How Hub
Keep up to date with the latest news and updates 
ERIKS in Action
Saving you time and money, each and every day

ERIKS Provide a Bespoke Lighting Solution for a Leading Food Manufacturer
A new energy-efficient lighting system needed to be installed at a food manufacturers' production facility. The solution needed to be made from safe materials, installed within a tight time frame while coming in cheaper than an existing quote. ERIKS managed to acheive this with a saving of £150,000...
Contact
Get in Touch
For all general enquiries use the Enquire Online form - we'll connect you with the best member of our team for your query.  Alternatively, look up your local service centre...
Got a Technical Question?
We are proud to boast a strong team of technical specialists in each of our product and service areas. If you have a technical question a member of our team would be happy to help. 
Share Your Thoughts
At ERIKS we strive to deliver the best quality service and products. As part of this goal we encourage customers to submit feedback on their experiences so we can resolve any issues and concerns.